Sport is the healthy activity. No wonder if we had habituated to sport activity since childhood. Not only students or athlets do sport activities regularly, but so do our state military soldiers. Exercises and sports become part of their regular military training, and also the soldiers can express their hobbies of sports. 403 Infantery Military Battalion is located in Yogyakarta. It has 4 sport clubs, such as soccer, volleyball, athletic, and taekwondo. Since January 12, 2019, Waroeng SS became the primary sponsor of this sport team for one year ahead. We wish it will stimulate them to exercise energetically much more. Waroeng SS logo will be adhered in every sports club member's t-shirts as mutual benefit. We hope this cooperative collaboration gives good benefit to both sides each other. Keep on fire for sport, our young patriots.
Author :
Tim Humas & Legal
Publish :
Rabu, 23 Januari 2019
Read more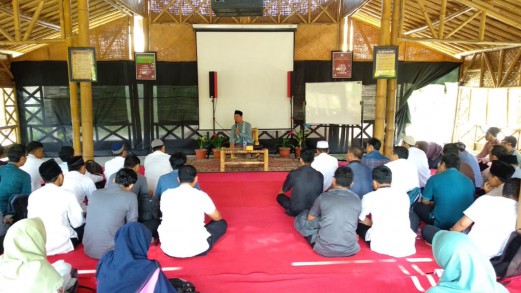 Wednesday (11/21/2018) a religious study was carried out simultaneously with the theme "Imitating the Morals of the Prophet Muhammad SAW" for Central Management and Area Management personnel.
Author :
Tim Humas & Legal
Publish :
Minggu, 4 November 2018
Read more